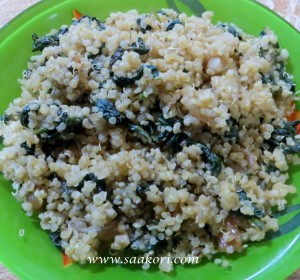 Spinach Quinoa
This is a quick and flavourful side for those busy soccer/ game nights. Full of protein, complex carbs from the quinoa- so your blood sugar levels will not spike. The spinach adds fiber, Vitamin A and magnesium making this a power packed food for on-the-go nights!
Ingredients:
1 cup quinoa
1 small red onion finely chopped
2 cups broth (chicken or vegetable)
1 cup spinach (chopped)
2 cloves minced garlic
1/4 tsp. smoked paprika
1 tbsp. fresh cilantro
1 tbsp. grapeseed oil
salt and pepper to taste
Directions:
In a pot, boil 1 cup quinoa in 2 cups broth of your choice.
Turn down the heat and simmer the mix, and cook until done.
Fluff with a fork.
You can use water instead of broth, too but I find the broth adds a nice flavour to the end product.
In a pan, sauté the onions till golden brown, add garlic and suate for a minute or so.
Make sure the garlic does not burn/ turn brown, as it will give a pungent taste.
Add the spinach and sauté till soft.
Add the quinoa, smoked paprika and salt and pepper to taste.
Serve warm as a side dish or serve as base with chicken / fish fillet
Great dish for office lunch, family meals, pot-lucks or picnics.