Raw Beet and Carrot Salad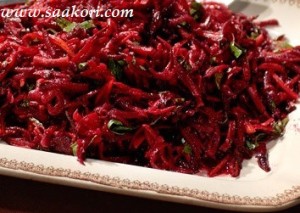 Ingredients:
2 cups beet roots (peeled and grated)
1 cup carrots (peeled and grated)
2 tsp. tahini
1 tbsp. lemon juice
2 tsp. Dijon mustard
1 tbsp. fresh cilantro
1 tsp. sesame oil
3-4 tbsp. pumpkin or sunflower seeds
pinch sea salt
Directions:
Wash, peel and grate and beets and carrots.
Mix all the other ingredients in a bowl and add the grated beets and carrots to it.
If you prefer some flavors over the others, adjust the ingredient quantities accordingly.
This salad is quick to make and can be eaten immediately, or stored in an air-tight container for 3-4 days.
Great dish for office lunch, family meals, pot-lucks or picnics.