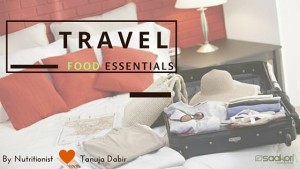 Do you have travel plans for pleasure or work?
Personally, I love traveling.
It gives me a break from the routine, refreshes me and there is just so much to see and learn on these trips.
And while traveling is awesome, it can be take a toll on your digestion/ wellness, due to the change in water, foods available and even time zones as it affects sleep cycle and eating times.
On a recent coaching call, one of my 'Signature' Digestion Intensive clients mentioned that he has some upcoming long distance some travel plans, and wanted to know how he could better prepare for his trip.
Now, obviously he had worked hard to strengthen his gut in the past few weeks, with life changing results and wanted to ensure that things don't regress while he was having fun vacationing.
So I thought why not write about some tips I use and share them with you today.
When traveling we pack a lot of clothes, accessories and perhaps even stuff we don't need.
Then why not pay attention to how we eat during our trip?
After all its peak of summer and you may have some travel plans. Whether traveling for pleasure or work, these tips would be handy for all travelers.
So here are some things to consider when traveling for work or pleasure:


​​​​​​​
1. Pack some easy to eat finger foods:
These are perfect on the go snacks, while you are out on the road, sightseeing or just lazing around on a beach or local parks. Pack some:
Nuts and seeds in a Ziploc bag
Energy bars like Lara Bars, or ones from Vega are great.
Stop by the local grocery store to buy fruits like apples, oranges, bananas or berries.
Dark chocolate bar, dried fruit like raisins, apricots, cranberries as a quick energizing pick me up. (Best to limit eating these to tiny quantities).
2. Avoid ice-cubes in drinks:
To prevent the risk of infections from contaminated water. Also iced beverages/ foods shock the gut, so are best avoided. If you do feel like having something cold, it's best to have refrigerated drinks over drinks cooled with ice.
3. Hydrate yourself well:
If you are traveling to hot, humid places or will be out in the sun for long, make sure you drink lots of water. Coconut water is great natural way to replace any electrolyte loss from the body.
4. Carry electrolyte tablets with you:
You can pre-purchase them from the local pharmacy and carry them with you. They are life savers in case you suffer from dehydration due to heat, diarrhea or stomach bugs.
5. Make sure you eat breakfast, lunch and dinner every day:
This will help stabilize the blood sugar levels and you won't feel tired, 'hangry' or dizzy from hunger. It will also provide you with energy to keep up with the activities you are planning through the day. Eat based on the time zone you are in.
6. Eat cooked foods preferably:
While salads and raw foods are very healthy way of eating, they may increase risk of infection if not prepared hygienically. So it would be best to eat cooked foods as a rule of thumb while traveling, as cooking will destroy any lurking pathogens.
7. Remember to pack your probiotic supplements:
The little good bugs in probiotics help strengthen the gut and prevent bowel issues in general.
8.  Remember to carry your first aid kit:
And include any medications and supplements you regularly take. Add in Vitamin C to boost your immunity during travel.
9. Sleep well:
Whether you are vacationing or on a work tour, make sure you get enough sleep! Lack of sleep weakens the immunity and makes you feel tired. Carry a sleep mask and ear plugs, to help you sleep better.
Pack in a bottle of your favorite essential oil like lavender or chamomile to help you sleep better.
Download your favorite meditation track/ soothing music track on your smart phone and use that to help you fall asleep.
Meanwhile, you can also grab my free guide to 10 Essential Foods for Rocking Digestion and Energetic You and begin strengthening your gut right away with these simple everyday foods.
And if you'd like to dive deeper and eliminate your symptoms like sugar cravings, lack of energy, heart burn, indigestion, IBS, constipation, diarrhea; I invite you to take advantage of a Complimentary Living a Symptom Free Life Coaching Session with me by clicking here.
During our call, I'll personally help you discover how you can reclaim your health and life.

Create a crystal clear vision for your health and wellness that will help you enjoy life more fully and get your "spark" back
Uncover the root cause, hidden challenges and self sabotaging habits that may be making you tired, bloated, crave sugar and carbs and put on weight.
Leave this session renewed, inspired and ready to finally strengthen digestion so you can enjoy your favorite foods without restrictions and be your best once and for all.
Simply click here and book your call.
I always love to hear from you, so don't forget to leave me a comment and connect with me on social media!