Pumpkin Hummus (Gluten free, soy-free, dairy free)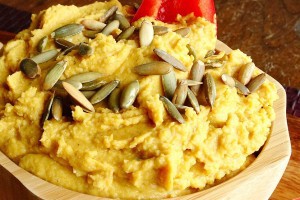 'Tis the season for pumpkins after-all. Pumpkin pies, pumpkin lattes, spices, soups and so on- you name it, it probably has pumpkin!
So why not pumpkin hummus!
I recently came across this recipe in Forks Over Knives, and wanted to share it with you.
Ingredients:
1 can chickpeas, drained and rinsed
1 can white beans (cannellini or other)
1 cup pure pumpkin
1/4 cup freshly squeezed lemon juice
1 medium large clove minced garlic
1/4 tsp. smoked paprika
1 tbsp. tahini
3/4 tsp. cumin powder
1/4 tsp rounded all-spice
1/4 tsp. smoked paprika
1/4 cup toasted pumpkin seeds for garnishing
salt to taste
Directions:
In a food processor add all ingredients except pumpkin seeds. Puree until very smooth. 
Taste, and if you'd like to add additional garlic or spices, add a little.
Then, add most of the pumpkin seeds (reserving a couple of tbsp), and pulse through.

Transfer mixture to a serving dish, and top with remaining pumpkin seeds

Makes 5 cups.

Note: the white beans will make the recipe creamier, as compared to just using chick peas.
Great side dish for office lunch, family meals, kids birthday, pot-lucks or as an appetizer.