Green Lentil Soup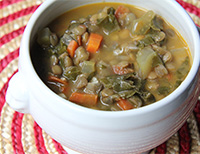 This soup is a nice change from the regular kidney bean or red lentil soup. Packed with protein from the lentils, fiber from the vegetables and lentils- this recipe makes a great main meal or as a starter to the meal.
Ingredients:
1 cup green lentils (washed and soaked overnight)
1/2 medium sized onion (finely chopped)
2 medium sized tomatoes (chopped finely)
1/2 cup carrots (peeled and cubed)
1 organic spinach (chopped)
1/2 cup celery (chopped)
1/2 cup broccoli (small florets)- optional
1 tbsp. grape seed oil
3 cloves garlic (minced)
1/2 tsp Rosemary leaves
3-4 cups broth (chicken or vegetable)
Salt and pepper to taste
Directions:
In a pot sauté the onions in the oil till softened.
Add the tomatoes and cook them till soft.
Add minced garlic, carrots, celery and salt and pepper. Soften them slightly.
Add the soaked green lentils, rosemary leaves and broth.
Bring to boil on high heat, and then simmer for 35-45 mins till the lentils are cooked.
Add the spinach in the last 4-5 mins.
You can put this in a slow cooker and have it premade for when you come back from a busy day at work.
I always cook a double batch and freeze half the portion for a busy night.
Serve warm for lunch or dinner with a small blob of butter, either as a starter or as a main dish with some crackers or wild rice.
This should make a hearty meal for 2 people.
You can add kale or Swiss chard instead of the spinach or even shredded pieces of chicken.