Fruity Oatmeal Muffin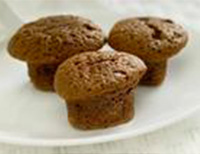 Healthy snack ideas are always a struggle for many parents, specially so if their kids have a sweet tooth and are picky eaters. But most kids love muffins. So here is fruity oatmeal muffin recipe for the young and those young at heart!
Perfect snack for those on-the-go moments, road trips and games/ tournaments, and ofcourse breakfast.
Ingredients:
1 cup old-fashioned oatmeal, uncooked (not instant)
1 cup pureed fully ripe banana
½ cup blueberries or chopped apple
1/2 cup almond or rice milk
1 large egg, beaten
3 tbsp plus 1 tsp oil
3/4 cup whole wheat or spelt flour
1 tbsp baking powder
1/2 tsp baking soda
1/4 tsp ground ginger
1/8 tsp ground nutmeg
Directions:
Pre-heat oven to 375 degrees F.
Place paper muffin cups in muffin pan.
Stir together oatmeal, banana, milk, egg and oil; set aside.
Stir together flour, baking powder, baking soda, ginger and nutmeg.
Make a well in the center of the flour mixture; stir in banana mixture just until well combined. Do not over-beat.
Pour into prepared muffin cups.
Each cup should be about 2/3 full.
Bake for 15 to 20 minutes, or until a tester comes out clean.
Cool on rack for 15 minutes before removing from pans.
Makes 12 muffins.
Enjoy on the go!
Sign up here for our Email Club and never miss on an upcoming new recipe, blog or nutrition tips/ resources.