Tofu, Quinoa and Wild Rice Bowl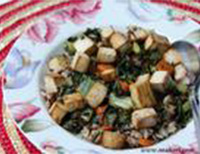 I love no hassle one bowl dishes as they are convenient to carry and eat anywhere. This tofu, wild rice and quinoa bowl is one of them. Packed with the goodness of whole grains like wild rice and quinoa and plenty of protein from tofu and ofcourse quinoa.
It's a new recipe I tried few days ago, and when my son gave it a thumbs up I knew I could share it with you.:)
Ingredients:
1 cup firm organic tofu (cubed)
1/2 cup carrots (peeled and cubed)
1 cup bak choy (chopped)
1/2 cup celery (chopped)
1/2 cup broccoli (small florets)- optional
3 tbsp. tamari
2 tbsp. sesame oil
1 cup wild rice + quinoa blend.
Directions:
Marinate the tofu in the tamari and sesame oil mix for half an hour.
Spread it on a baking sheet and put it in the oven for 20-25mins at 350 F.Keep it separately to top the bowl.
In a pot cook the quinoa and wild rice blend (amount of water for cooking will vary as per the blend instructions. I bought the one from Costco).
In a frying pan add the olive oil, and sauté the garlic, followed by the balance chopped veggies. Cook to desired crunchiness.
In a dinner bowl, put the base layer of wild rice- quinoa blend, followed by a layer of the sautéed veggies, and finally top it off with the tofu.
Enjoy warm on a cold day for lunch or dinner.
This should make a hearty meal for 2 people.
If you prefer some flavors over the others, adjust the ingredient quantities accordingly.