Super Foods Pasta (Gluten and Dairy Free)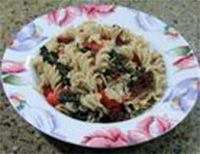 Ingredients:
2 cups brown rice pasta
2 tbsp olive oil
1 tbsp anchovies
1 red bell pepper (chopped)
2 tbsp. sundried tomatoes
2 tbsp. capers (chopped)
2 tbsp. walnuts (chopped)
few kale leaves (torn into small pieces).
2 garlic cloves
Salt and pepper to taste
Chilli flakes to taste (optional)
Parsley leaves (for garnishing)
Directions:
Cook pasta until al dante.
In a pan heat olive oil and sauté garlic and then anchovies.
Add kale and sauté till soft.
Add rest of the ingredients, adding walnuts at the very end.
Garnish with fresh parsley leaves
Serve hot!