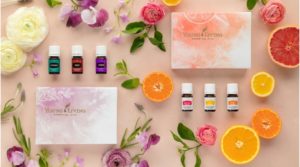 I'm going to come straight to the point.
I don't know about you, but shopping for gifts is always challenging for me.
So many things to consider…..it can be exhausting.
And especially so when it comes to the one person you love so much… your MOM!!

Honestly, I'm not in favor of buying my mom a kitchen gadget.
Dude, stop it!
Which mother wants to be reminded about toiling in the kitchen with that new blender?
And if she doesn't use it, she will be guilty.
(Yeah, us moms are weird that way, incase you've not noticed).

But, tell me- which mom would not like some TLC and self care goodies?
I am a sucker for spa retreats, massages and shopping sprees……hehe.
(Hope my son is reading this……Gotta sneak his email into his inbox!! wink wink….shush…)

So my suggestion this year is to get your mom some cool Essential Oils!!
Here are a couple of suggestions on the oils and how to use them:

Valor
Known for its bold, empowering aroma, Valor® is the perfect blend to share with the strong women in your life—and now is the best time to get this recently returned best-selling oil!
– Use for an at-home massage by combining a few drops of Valor with Young Living's V-6™ Vegetable Oil Complex or ask your significant other for a foot or back massage. We know you deserve it!
– Diffuse this oil to fill your area with its grounding aroma. It's perfect for your office space or wherever you sit down to power through your checklist.
– Apply this sweet, woodsy blend to your wrists, temples, or chest when preparing to take on a challenging day. Its confidence-boosting aroma will help you feel ready to seize the day.
– Create custom skin care by adding a few drops of Valor to a neutral lotion. Store in a travel-sized container in your purse, car, or office, so you can always apply a scent as unique as you.
Orange Vitality
Treat the leading ladies in your life to something special enhanced with Orange Vitality™! With a fresh, citrus taste, this versatile oil is easy to add to sweet and savory entrées, snacks, and desserts.
– Make breakfast in bed for Mom with orange-infused pancakes or waffles or whip up a fruit salad or yogurt parfait enhanced with 1–2 drops of citrus flavor.
– Use frozen fruit, almond milk, and Orange Vitality to create a cool, spring smoothie to share with a friend. It's a great post-workout reward for gym buddies!
– Make yogurt popsicles for daughters or nieces by combining 1 cup yogurt, ¼ cup honey, fresh fruit, and 1–2 drops Orange Vitality. You'll create sweet memories and share a special moment!
– Add Orange Vitality to a favorite baked goods recipe for a citrus spin. Gift your creation to a friend or mentor with a card thanking her for all she does.

You can browse the entire Young Living Essential Oil product cataloge here.
HOW TO BUY THESE COOLS OILS/ PRODUCTS?
1. Hit reply with your order details and I will place the order to be drop shipped to your doorstep or your mom's doorstep anywhere in Canada.
2. Or you can open your own YL account and get a 25% discount on the oils, everytime your purchase!!
Yes, everytime……Sweet right?

AND …. Opening your account is FREE!!

Incase you have no clue what essential oils are, watch this video. 

Still got questions?
Hit reply and I will be happy to answer them for you!
You know I love to hear from you, so just go ahead and reach out.

XOXO
Tanuja
[P.S- you can order any oil/ homecare product from the catalogue once you open the account!!]