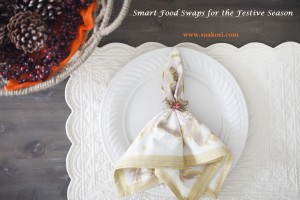 October marks the start of celebrations and feasts for most of us in North America.
It begins with Thanksgiving, then Halloween, work and social Holiday parties, the Holiday celebrations with family and friends, and continues until we ring in the New Year. So we are talking about almost 3 months of heavy, calorie rich, sugary and fatty food consumption.
Even though you may not be eating it every day for the 3 months, it is still enough for most of us to put on weight and feel bloated, tired and achy. We all know the feeling.
So here are some Food Swaps you may want to try out and be a Smart Eater.
| | |
| --- | --- |
| Eat this | Not that |
| Yams with the skin on | White potatoes |
| Veggies with part skim cheese | Cheese and cracker appys |
| Lentil / beet chips | Potato chips |
| Tomato salsa | Creamy dips |
|  Raw nuts like almonds, pistachios | Salted/ chocolate/ honey coated nuts |
|  Cauliflower mash | Mashed potato |
|  Grilled/ baked yams, broccoli, carrots | Pan fried vegetables |
Savour the food, your company and the festivities. That's what memories are all about. Don't let them be marred by your worries.
Don't fret too much over the upcoming events, and don't feel helpless. What you eat and how much you eat is in your control.
Eating healthy through the festivities is not hard, if you plan ahead of time and eat sensibly each time.
If you are overwhelmed by it all, remember help is just a phone call away. You can always schedule your complimentary consult with me, and together we can navigate through your eating challenges.
Warmly,
Tanuja Dabir