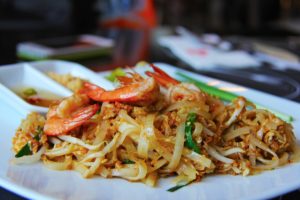 Pasta dishes are usually high in calories and carbohydrates, and low in fiber – recipe for blood sugar chaos and weight gain.
So what do you do when you need a noodle fix?
Make some Shirataki noodles!
Shirataki noodles contain a mere 20 calories and 3 g of carbohydrates per serving and some brands (depending on if they are tofu or konjac root based) provide up to 12 grams of fiber! With nutrition statistics this great, you can eat Shirataki noodles every day without worrying about your waistline!

Preparing Shirataki Noodles
The trick to enjoying shirataki noodles is to thoroughly rinse and dry them.
To get a firmer texture, cook the noodles for a minute in the microwave and then dry the noodles once more. They can be added to stir-fries, salads, casseroles, soups…
Or try this Pad Thai recipe:
Ingredients:
2 (8 ounce) packages shirataki noodles
2 chicken breasts
1 tablespoon oil
1 tablespoon minced garlic
1 tablespoon minced ginger
1 tablespoon crushed red pepper flakes


Sauce:

1 tablespoon soy sauce
1 tablespoon peanut butter
1 tablespoon water
1 tablespoon white vinegar
1 teaspoon brown sugar
1/4 cup crushed peanuts and lime for garnish


Note: You can add shrimp/ other meat, tofu based on your preference.
Directions:
Slice the chicken breasts into very thin slivers.
Drain the Shirataki noodles and make sure they're dry.
Add 1 tablespoon oil to pan and heat. Add the garlic and ginger and heat until fragrant. Stir in the meat and cook until browned. Stir in the noodles until separated and coated.
Separately, combine the soy sauce, peanut butter, water and red pepper paste.
Pour the sauce over the noodles and meat. Add the vinegar and brown sugar and toss it all together.
Add the vinegar and brown sugar and toss it all together.
Allow the sauce to heat through. Remove from the heat.
Top with peanuts, a squeeze of lime and serve.
Garnish with fresh cilantro leaves and enjoy!