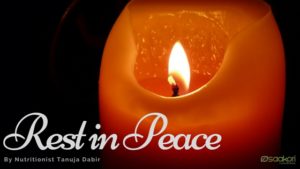 I am dead and now finally at peace.
Why did I have to 'die' to attain peace?
Why did I have to go through life as if my butt was on fire and had to perpetually scramble to get things together?
Why did I hustle to 'find' happiness and peace? Shouldn't that be my natural state of being?
But then why did I act like a human 'doing' instead of a human 'being'?

With the end of 2016, my mind is in a very different space. It's questioning a lot of things, and I've really been contemplating on these questions.
So while I am not really physically dead, I hope to get the answers to these questions so I can ENJOY life and BE at peace while I am alive.
In case you are wondering what triggered my odd trail of thought and the seemingly bizarre questioning spree, then hang in there. I'll tell you in just a minute.

You see I am a hustler.
I like to DO things and achieve results for myself and my clients (I'm a holistic nutritionist, in case you are wondering).
I'm so passionate about my mission to help others achieve their optimal well-being that I can often get carried away by the strong current of desire to do just that.

I forget to take a break, relax and enjoy the satisfaction of completed projects and client successes. So eventually, I start feeling overwhelmed, exhausted & in danger of putting my own well-being at the edge.
I wonder where time disappears and why on earth am I feeling this way.
Crazy….right?
That's exactly what happened to me over the past couple of weeks. While, most people were taking time off during the Holidays to enjoy some quality time with their family and friends; I was working.
Every single day!
Despite the fact that I love what I do, I do need a break! And generally by the time I realize it, I am close to burnout!

Are you like me- caught in the hustle of life which is passing by a warping speed? You have no time, take no breaks and wonder if you have any real sense of joy and peace left in you?
Then you are not alone.
I've had so many conversations with my clients last year on various areas of dissatisfaction; such as:
1. Stress, whether at work / home or both!
2. Feeling inadequate, as if you're not good enough
3. Having unfulfilled expectations and dreams
4. Relentless pressures to perform and prove your worth to others. Or sometimes just to yourself.
5. Worrying about the future- either of kids, or personal health, or that of your parents
6. Financial worries
7. Relationship issues
8. Lack of clarity & purpose
9. And ofcourse the universal lack of time
The list is quite extensive actually, these are just some highlights.

So with this list of unending questions & after numerous heart to heart conversations with my clients and friends; plus my own recent state of restlessness is the trigger points of my rampage above.
At the end of the day, we all want to be happy and at peace.
But the million dollar question is: how?
Now, I firmly believe that anytime you are on a quest with a pure & genuine intention, the answer appears.
For me, the answer came to me while watching a you-tube video called 'Peace is the Highest Happiness' by the awesome spiritual leader Ajahn Brahm.

I had an 'Aha' moment when I heard him reveal the following truths:
"HAPPINESS is achieved when you CREATE something or DO something. But when you STOP moving/ doing things, there is PEACE."
During turmoil, you can't find happiness, but you CAN find peace! You don't have to 'make peace happen'"
"Peace comes from losing; like losing the wants & desires, losing the criticism, losing the hustle. Peace comes by just being."
"You are the one who is making the noise. Sshhh……Stop making noise. Be silent."
So simple…..and yet such profound truth in these statements!
After listening to the talk, something shifted in me.
There is more peace and more willingness to let go and FEEL the flow.
I really AM learning to make peace with where I am in this present moment.
I'm recognizing that the hustle to somewhere or to be someone, is taking away my peace of mind.
I'm learning that I am here now for a reason, and that my monkey mind is just doing its job when it makes me want to be somewhere else instead.
I know now that while it's necessary for me to evolve with time, but it can be done without getting overwhelmed. I just have to take one baby step at a time, and trust whatever is coming is for my greater good. Just like I guide my clients to make dietary & lifestyle changes one step at a time. It is not different for me.

So, I've decided that in the New Year, I am going to enjoy my journey instead of complaining as to why I've still not reached my destination. I'm accepting that the fun is in the ride and in letting things unfold in their own time.
I'm going to stop waiting for things to be fixed, for my health to be better or changing things that are beyond my control.
I'm learning to be at peace with myself.
I don't want to wait for death to rest in peace.
For me, it all starts here and now.

How about you?
In the peaceful spirit of life and the new beginnings in 2017,
Cheers!
Tanuja

P.S- I'd love to chat with you some more and help you find your peace with the gift of health. Click here to set up a free discovery session with me: http://saakori.com/contact/

During our call, I'll personally help you discover how you can reclaim your health and life.

Determine your main health concerns
Identify how they are stopping you from being your best
Nail down the result/ transformation you want to achieve, and
Figure out your next best course of action so that you can start living fully again