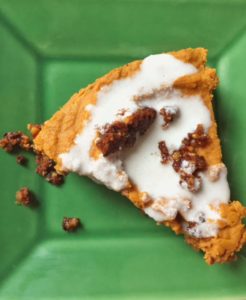 If you love pumpkin pies but can't enjoy them because of food restrictions, then you are in the right place!
This gluten and dairy free pie will satiate your taste buds to the core.
Ingredients:
For the crust-
2 cups walnuts
1 cup cashews
15 pitted dates
1/2 tsp cinnamon
Coconut oil for greasing the pan

For the filling-
1 cup canned coconut milk
1 can pureed pumpkin (not pumpkin pie filling)
2 large eggs
1/2 cup maple syrup
1 tsp vanilla extract
1 tsp cinnamon
1 tsp nutmeg
1/2 tsp ginger
1/4 tsp cardamom
1/4 tsp salt
Directions:
Preheat the oven to 350 degrees
Throw all ingredients for the crust into a blender and pulse until crumbly (it will be slightly sticky).
Grease a pie dish or baking pan with coconut oil and press crust into the bottom evenly using a spoon.
Place all of filling ingredients into the blender and blend until smooth
Pour filling into pie crust and bake approximately 45-50 minutes.
Serve with homemade coconut whipped cream and enjoy!
Recipe created by: Kira Whitham
Kira Whitham has a Master's in Health and Nutrition Education from Hawthorn University. She is the founder of "a nourished life" where she works with clients both one-on-one and in group sessions. She takes a functional approach to nutrition, working to uncover the root of the problem and taking bio-individuality into account, understanding that every person has a different nutritional need. She is also a member of the National Association of Nutrition Professionals (NANP).
www.anourishedlifenutrition.com

Want more wholesome Holiday recipes created by Nutritionists?
Download them by clicking here!