Oatmeal to your taste!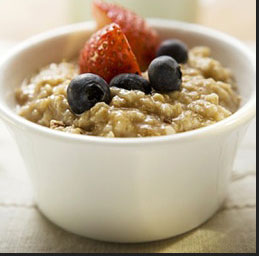 Oatmeal is a popular breakfast item.
We all enjoy it in different ways- whole oats, quick oats, rolled oats etc. I prefer the fibre rich complex carb version of this- the steel cut oats. Here's how we eat it in our family.
Time saving tip!- I generally cook the oats as a big batch, so it lasts me a week when stored in the fridge.
Ingredients:
1 cup steel cut oats
2-3 cups water to cook the oats, or as per instructions on the package
3 tbsp. organic grated dry coconut flakes
1/2 tsp. cinnamon powder
1/2 tsp. nutmeg powder (optional)
Fruit of your choice like blueberries or banana
Maple syrup/ honey (to taste, optional)
1/2 cup unsweetened Almond milk (adjust amount to desired consistency)
Directions:
Boil water in a pot, and add oats till cooked. Normally it takes 20-30 mins.
Make sure you keep stirring the oats as they cook, else they will stick to the bottom of the pan and burn.
Store in an air-tight container in the fridge.
When ready to eat, take the desired cooked portion in a large bowl.
Mix rest of the ingredients, and enjoy either warm or cold!
.