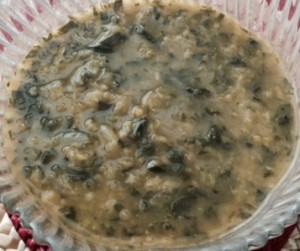 Growing up as a vegetarian, lentils (or dal we call it in India) was my main source of protein.
I love dals of all sorts. So today I am sharing with you one of my favorite dal recipe as it incorporates another favorite superfood of mine- fenugreek leaves!
Fenugreek (referred to as Methi in India) is an aromatic, clover-like herb. It's seeds are powdered or used whole in the spice collection and leaves eaten as a vegetable in India. It does have a slight hint of bitterness to it, but that's what makes it so unique tasting!
Did you know that orally fenugreek is used for diabetes, loss of appetite, dyspepsia, gastroesophageal reflux disease (GERD), gastritis, constipation, dysmenorrhea, polycystic ovary syndrome, obesity, atherosclerosis, hyperlipidemia, and for stimulating lactation. (*Source- Natural Medicines Database)
This is a protein and nutrient dense main dish can be served with rice, bread, roti/naan or even quinoa.
Ingredients: (Served 2-3 people)
3/4 cup dry mung dal (yellow)
1.5 cups fenugreek leaves (washed and finely chopped)
1/4 onion thinly sliced
1/4 tsp cumin seeds
1/4 tsp turmeric powder
1/4 tsp red chili powder or 1 small green chili finely chopped
2 cloves of minced garlic
1″ fresh ginger root (grated)
1 tbsp. cold pressed organic coconut oil or ghee
1 tsp garam masala
Salt to taste
Cilantro leaves (finely chopped) to garnish
Directions:
Wash the mung dal with running water.
Add to a pot with double the amount of water, bring to boil.
Cook on a simmer cook until soft (usually takes 20-30 mins). Or you can cook it in a slow cooker if that's more convenient.
Keep stirring occasionally.
Add more water till you get the desired consistency. I like it a bit thicker- almost like thick gravy.
Heat up a separate small saute pan, add the coconut oil/ ghee and let it heat up as well.
Add the cumin seeds and when they turn golden brown add the onions. Saute till golden brown.
Then add the garlic & ginger and saute for few seconds.
Now add the balance spices and chopped fenugreek leaves and saute for another minute.
Take off the heat and add this to the cooked mung dal.
Boil for a few minutes more so all the flavors are soaked up by the dal.
Keep stirring occasionally.
Turn off the heat, and garnish with chopped cilantro
Serve hot.
Let me know how it goes, I always love to hear from you!