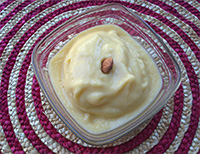 We have been blessed with a wonderfully warm and sunny spring this year.
And anytime it gets hot, there is one item that is most in demand in my household- ice-cream! My son just loves having ice-cream on hot days.
Now we all know how much the store-brought ice-creams are laden with calories, fats, sugars and even artificial flavors and colors. It's ok for once in a while treat, but I'd rather have a healthier version so my son can enjoy it more frequently.
My Vitamix was the saviour here! So I'm sharing with you my simple mango ice-cream, made with just 3 ingredients! A regular blender might work too, depending on how powerful it is in breaking down the frozen fruit pieces.
Ingredients:
1 cup frozen mango chunks
1 cup plain Greek yogurt
1/4 tsp cardamom powder
Maple syrup (to taste. Optional if the fruit is not so sweet)
Directions:
Blend all ingredients together to make the ice-cream.(I use the ice-cream setting on the Vitamix)
If blending is hard, I sometimes add a couple tbsp. of coconut milk or almond milk to make the blade run smoothly.
You can replace mango with any other frozen fruits like berries, peaches, pineapple. Try adding a banana for a tropical taste.
So try it out folks, and let me know which flavour is your all time favorite?