Mango Delight Smoothie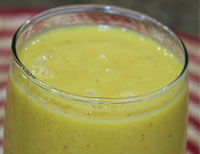 Mango, the king of all fruits, is one of my favourite fruits of all time! And it is the season for mangoes now.
Mangoes come in 100's of varieties, shapes and sizes. But for me nothing compares to the rich taste of the Alphonso mangoes from India! Once you eat an Alphonso, there is no other paralleled taste….Most of them are exported and as such are quite expensive to buy here, costing upto $3-$4 a piece!
Much of the north American supply of mangoes comes from Mexico, Central America and Haiti. Three of the better tasting varieties are Haden, Kent and Keitt.
Some of the key nutrients obtained from mangoes are:
Vitamin A, Beta Carotene, Vitamin C and Vitamin E.
Firm ripe mangoes are an important ingredient in Indian chutneys, served traditionally with savoury foods. While I love eating a mango as is, I also love mango smoothies.
So today I'm sharing my Mango Delight smoothie recipe with you.?
Ingredients:
1 cup mango chunks
1 medium banana
2 cups almond milk (unsweetened)
1 tbsp Hemp Hearts
1/2 cup Spinach leaves (organic): optional
Directions:
Blend all ingredients together to make the smoothie.
I like to add the Hemp hearts in the final few seconds, rather than the beginning. This way I still get small nutty pieces to chew on.
If you prefer a blended taste, feel free to add the hemp hearts at the beginning.
If you have any favorite variations…. I'd love to hear about it!