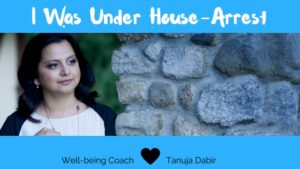 I am in the midst of last moment packing my suitcase, as I am leaving for Hawaii in just a few hours.
Woo-hoo………can't wait for the sunshine and 26 c warmth.
Watch out Hawaii, here I come in my fully glory. Dresses, shorts, sunscreen, flip-flops….check, check, check & check!
But you know what, a few years ago the thought of stepping out of the house terrorized me.
Whether it was for a work related meeting or a casual dinner out with my family, it would cause terrible anxiety.

Why?
Coz I was suffering from horrendous bouts of diarrhea.
I had no clue when it would strike and how bad the runs would be. I would get sudden cramping and would need to dart to the washroom in full speed. I could run faster than a deer being chased by a tiger!!
The thought of eating out was specially agonizing, as I never knew what would trigger my IBS.

So I would put myself under a house arrest and make all sorts of excuses to avoid going out at any cost.
In a nut-shell I felt like I was 'stuck in a toilet'!

The solution my doctors gave me was to have Imodium, and so every time I just HAD to go out I would gulp one, sometimes 2 down and pray that calamity would not strike.
I did not want to be embarrassed in the public after all.

My misery and helplessness eventually forced me to step up my game and find out why I was suffering in the first place. To find alternatives, to look for more natural solutions to stop the runs.
I soon realized I was sensitive to dairy and spinach. I had a very weak digestive system that was inflamed and could not handle food efficiently , not matter how little I ate.

To top it all up, my stress levels were through the roof! High stress levels adversely affect digestion, and that was adding to my problem.

Fast forward today, things are different. Having worked on strengthening my gut today I am a happy camper! 🙂
I don't feel imprisoned in my own body. I rarely get the cramping and have regular, "normal" bowel movements instead of rushing to the washroom 20 times a day.

Today I can even enjoy dairy and spinach in moderation without any issues.

But the best part of it all…….today, I am helping others suffering from chronic IBS feel better.

– You don't have to be stuck in the toilet.
– You don't have to imprisoned by your own body.
– You don't have to be under house arrest.
– You can be free of the agony, the pains and the runs.

I can show you how.
You just have to decide.

My 'Signature' Digestion Intensive is specifically designed to take you from crampy, bloated and irregular to feeling energetic and regular.

Want to know more? Check it out here.

In the spirit of of a rocking digestion!
XOXO
Tanuja

Have questions? Let's chat!
During our call, I'll personally help you discover how you can reclaim your health and life.

Create a crystal clear vision for your health and wellness that will help you enjoy life more fully and get your "spark" back
Uncover the root cause, hidden challenges and self sabotaging habits that may be making you tired, bloated, crave sugar and carbs and put on weight.
Leave this session renewed, inspired and ready to finally strengthen digestion so you can enjoy your favorite foods with restrictions and be your best once and for all.