Indian Style Savory Mung Beans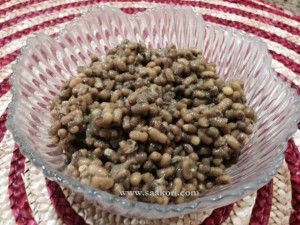 I love mung beans for breakfast.
They are a great source of protein for vegetarians, filled with fiber, great for gentle detoxing and light on the stomach. There are a couple of ways I make them, but I'll share one today and keep the other recipe for a another time.
Since this recipe is savory, you can have it for breakfast, for lunch or dinner as a main dish or even as a side dish if you like. This is one versatile dish which you can cook and use as per your convenience. Its a common recipe for us Maharashtrians (people from the western coastal part of India. Think Mumbai region and the surrounding areas).
Ingredients:
1 cup green mung beans (washed and soaked overnight)
1/2 tsp mustard seeds
3/4 tsp turmeric powder
1″ piece of jaggery (or honey if you prefer)
1/2 tsp red chili powder or 1 small green chili
1 tbsp. tamarind concentrate (or lemon juice if you prefer)
1″ fresh ginger root, grated
1 tbsp. cold pressed organic coconut oil
1 tsp garam masala (optional)
shredded coconut to taste (for garnish)
salt to taste
Note:
Wash and soak the mung beans overnight.
In the morning, rinse and drain the water. Using the soaking water may cause gas.
Directions:
In a hot pan, put the coconut oil and let it heat.
Add the mustard seeds and let them crackle.
Add turmeric powder, red chili powder, ginger root, and the garam masala.
Stir and add the soaked mung beans, tamarind concentrate, jaggery piece and salt.
The sweetness of jaggery / honey will counter sour tamarind paste.
Add 1-2 cups of water, depending on the desired consistency.
Keep stirring occasionally. it might take upto 30 mins or more to cook until the mung beans are soft. Or you can make this in the slow cooker too!
The dish in the picture here is pretty dry, but you can make them with more water if you plan to serve it as a gravy with  rice or quinoa.
The drier version can be eaten with salads, as lettuce wrap, with bread or naan- or just by itself.
I've eaten it cold during summer for breakfast or hot on cooler days. As I said this is one versatile dish you can eat in many ways.
Let me know how it goes, I always love to hear from you!
Sign up here for our Email Club and never miss on an upcoming new recipe, blog or nutrition tips/ resources.