Chocolate Nuts and Date Treats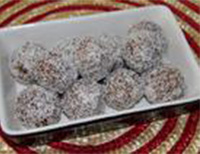 Ingredients:
1 cup walnuts
1 cup almonds
1 cup pitted dates (softened in water if hard)
3 tbsp. cacao powder
1/2 tsp. cinnamon powder
1/2 tsp. nutmeg powder
1/2 cup maple syrup (adjust amount to desired sweetness)
1/2 cup coconut flakes.
Directions:
Put all dry ingredients (except coconut flakes) in a food processor and grind till coarsely chopped
(to desired coarseness). I like them a little finely ground.
Add maple syrup and give it one more whisk.
Mould the mixture into small balls or give them desired fun shapes.
Coat with dry coconut flakes.
Freeze them for an hour to make them a little hard.
Serve frozen or refrigerated