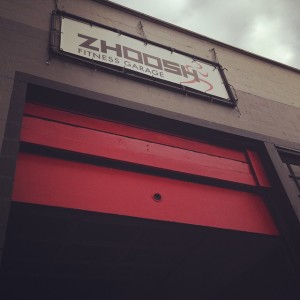 If you are anything like me, then big corporate gyms would intimidate you. I dislike the cold feeling, the big equipment and feel quite lost overall.
But ZHOOSH Fitness Garage which brings fitness and health to residents of New Westminster and beyond, is a fun and funky little space totally unlike the big gyms.
ZHOOSH is not a new or fancy space but is reminiscent of old school style fitness, where gyms existed to simply work out.  Tires, ropes, jump boxes and heavy bags are just a part of the equipment used.
All levels of fitness are welcome to join the ZHOOSH family. The Garage offers: Personal Training, Fight Club Boot Camp, Boxing Bad, Women's Kickboxing, Karate, Health & Fitness Seminars, Private Group Fitness Sessions, Women's Self-Defense and more.
Robyn Murrell the owner, strives to make everyone feel valued and respected and treats them equally. Exceptional personalized customer service is an important part of Robyn's business philosophy that also extends to her community via service, support and spirit!
Robyn is now a Certified Parkinson Wellness Recovery Instructor and designing specialized exercise sessions for people living with Parkinson's Disease and other movement disorders.  She is an active supporter of Parkinson Society of BC. From April – July 2015 Robyn was the New West Leader for a new 12 week walking program called Step by Step for people living with Parkinson's.
Infact Robyn was recently interviewed by Shaw TV about her endeavours!
I partnered with Robyn as the opening speaker for the Health and Fitness Seminars last year.
And since we are like minded in our approach to wellbeing with focus on transformation rather than quick fixes, she is also on my list of Trusted Partners.
She is a proud New West resident and extremely active in the community in many other ways such as: Quest New West, Fire Relief Fundraisers, Spring Cleaning for your Mind, Body & Soul Wellness Expo at River Market, Canadian Cancer Society raising $6000.00, to name a few. She also supports other businesses and community events by donating prizes, silent auction items and the like.
Oh and did I tell you a little secret about Robyn? She make awesome natural body care products!
So if you are looking for fun ways to bring exercise into your life, make sure check out ZHOOSH Fitness Garage!