Blueberry Almond Cake Bites (Gluten/ Dairy Free)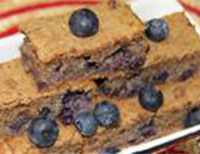 Ingredients:
2.5 cups Almond flour
1 tbsp. cinnamon powder
1 tsp baking soda
a pinch sea salt
2 large eggs
1/2 cup extra-virgin olive oil
1/2 cup maple syrup
1 tbsp pure vanilla extract
1 cup frozen or fresh blueberries
Directions:
Preheat the oven to 300F,. Line a baking tray with parchment paper.
Whisk together the dry ingredients in a bowl.
In a separate bowl whisk together the wet ingredients.
Add the wet ingredients to the dry one and fold the mixture with a spatula until smooth.
Lastly gently fold in the blueberries until they are evenly spread throughout the batter.
Pour the mixture into the baking tray and bake for about 30-35 mins, rotating the tray half way through. Check if done by inserting a tooth pick which should come out clean.
Let the cake stand for 15 mins or so, and transfer to a wire rack to cool of completely. Cut into bite sizes pieces and store in an airtight container for upto 3 days at room temperature.
Enjoy on the go!