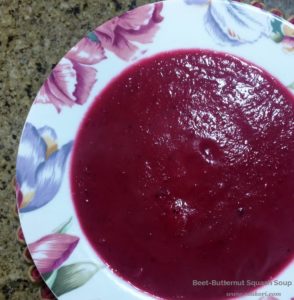 This recipe is excellent for Fall/ Winter days to keep you warm, nourished and strengthen your digestion at the same time.
Beets are a superfood when it comes to detoxing the liver, rich with anti-oxidants, vitamin C, beta-carotene, calcium and ofcourse iron!
Butternut squash is a gut soothing food, great for people suffering from digestive issues like IBS, Candida, indigestion, or leaky gut in general. This winter wonder is also rich in vitamin C and a source of beta-carotene.
So, this vitamin C rich soup is perfect one to consume during the cold and flu season
Prep time: 10 mins
Cook time: 50 mins
Total time: 1 hour
Ingredients:
1 medium butternut squash, halved vertically and seeded
2 beets, peeled and chopped into big chunks
1 tablespoon olive oil, plus more for drizzling
½ red onion, coarsely chopped
Bunch of cilantro leaves
2-3 cloves of garlic minced
3 cups vegetable broth
1 cup coconut milk
Salt and fresh pepper to taste
Directions:
Preheat the oven to 425 degrees Fahrenheit and line a rimmed baking sheet with parchment paper. Lightly coat the halved squash on the inside and outside with olive oil to (about 1 teaspoon each).
Turn the squash face down and roast until it is tender and completely cooked through, about 45 to 50 minutes.
Add the cut up beets and onions to the same baking tray with squash and roast them as well simultaneously.
Set the roasted squash, beets and onions aside until its cool enough to handle, about 10 minutes. Then use a large spoon to scoop the butternut squash flesh into a bowl and discard the tough skin.
Meanwhile, in a medium sized pot, add the vegetable broth and coconut milk, followed by the roasted veggies and ¼ cup cilantro leaves.
Blend with an immersion blender to desired consistency.
Bring to boil and simmer for 5 mins.
Add salt and pepper to taste and garnish with fresh cilantro leaves.
Bonus Tip: Batch cook and store the rest of the unconsumed soup for another meal!
Let me know how it went….I always love to hear from you!
If you are looking for more gut-friendly foods, then grab my Free guide on Top 10 foods for a Rocking Digestion here.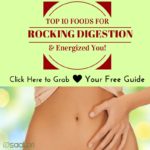 Remember to join our Email Club and Private FB group, so you are updated on the latest recipes, tips and resources I'm always sharing!