Chocolate Avocado Mousse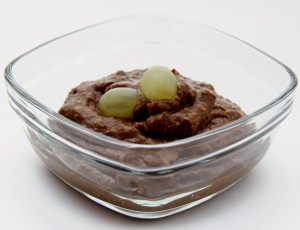 Ingredients:
2 ripe avocadoes chopped.
1 ripe banana chopped.
2 tbsp. cacao or cocoa powder
1 tsp. vanilla extract
maple syrup (to taste)
Directions:
Blend all ingredients.
Adjust the amount of maple syrup to desired sweetness required.
Garnish with fresh chopped grapes or seasonal fruit pieces of your choice.
Serve chilled and enjoy!