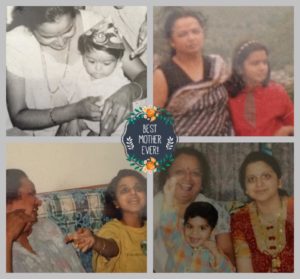 My mom is an amazing woman.
I inherited my looks, my artistic abilities and my perseverance from my mom.
And while those certainly are qualities I am proud of, she is a power house of some other strong qualities.

She has unwavering determination when she decides to do something.
She stands by what she believes in.
She is positive at all times, no matter what life throws at her. And trust me; she has seen a
quite a lot of trying times all through her life.
She has rock solid faith in the divine and her own abilities. (I guess that contributes big time to her positive attitude).
She doesn't ask for help; even at this age when her health is not keeping up with her.
And the best quality of all times, she is a go giver. She will not flinch for a moment if someone needs help.  And you know what, I've seen her go out of the way even to help people who have wronged her.

I've come across very few women like her, especially in her generation.
I've seen her stand strong no matter how unfulfilling her career was, how emotionally taxing her mom and brother were, how challenging financial times were in the early years of her marriage, or how different my dad's view point was in certain situations.
She has always been the pillar of strength for my dad and me for all these years.
And yet she's living a fairly unacknowledged, ordinary life.

So today on Mother's Day- I am doing something I've never done before.
I want to acknowledge & honor my mom and thank her from the bottom of my heart.
And while I could go on and write pages full of emotional stories to do so, I think this is one of those times where less is more.

So I will come straight to the point, just like my mom does. 😉
Thank you Aai (that's what I call her) for all that you've done for us.
Thank you for standing with us, supporting us, giving unconditionally and loving us with all your heart.
Thank you for teaching me how to be a good mom to my son.
And I sincerely do wish do emulate your inspiring qualities and be half the woman you are.
Our lives are incomplete without you.

Happy Mother's Day!
From a loving daughter who is in awe of you,
Tanuja

[P.S- I wrote this post not just to thank my mom, but to remind you to do the same for a woman your admire in your life. Take the time today to honor her and tell her how much she means to you.]
[P.P.S- hit reply and share with me who that woman is and how she makes your life worth living.]