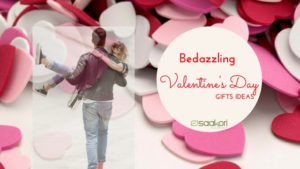 Shopping close to Valentine 's Day makes me roll my eyes till I feel dizzy to the point of almost falling flat on my face.
Any guesses why?
Because of the same old- same old (boring) tsunami of merchandise and promos for Valentine's day!
Most people never think beyond the clichéd gifts like chocolates, teddy bears, jewelery or clothes.
Am I right? Lol!

Valentine's day is a day to make your loved one feel special! It's a time to let them know they matter, that they hold a very special space in your heart and life; and the gift you choose should reflect that.
So this year I am asking you to step up your game, and think out of the box.
Show your love how much you really care, and wow him/ her with something that will make them gloat about you all year long!

To sweep their feet away, let me help you with some non-traditional bedazzling gift ideas!
1. Essential oils:
I'm beginning to experience the benefits of organic essential oils and am almost regretting why I didn't discover them earlier!
Essential oils have been used for thousands of years in varied ways like cosmetics, aroma therapy, cleaning, spiritual, dietary and religious purposes.
These can be used in diffusers or topically. A few of my favorite picks are:
i) Lavender: is the most classic EO out there loved for its soothing aroma. It helps relax agitated minds, relieve joint and muscle pains and headaches.
ii) Rose: I LOVE the smell of roses! Getting a bouquet of roses is nice, but they are short lived and instead of buying perfume full of chemicals, I use rose EO on my body! Then I can smell like a rose all day long.
iii) Peppermint: is such a versatile EO! It's refreshing and invigorates the senses instantly. It's also great for tummy troubles including IBS and cramps (something I recommend for my digestion program clients all the time).
It also helps reduce symptoms of cold and cough!
iv) Patchouli: is our family favorite and we use it as a home freshener instead of the chemical packed room-freshener sprays. Few drops of patchouli in the diffuser in the evenings has our home smelling fresh and peaceful.
It is also great for dry skin! And by the way, this is an aroma favored by men!
v) Frankincense: Yes, even the Bible references this EO! It has a sweet, warm and balsamic aroma and is great for spirituality and inner strength. It is also wonderful for the skin and is a must for your daily beauty regime!
vi) Ylang-Ylang (pronounced as ee-lang ee-lang): is considered an aphrodisiac! So this gets a special mention since we are talking about Val day gifts. This oil is also believed to balance the sacral and solar plexus chakras.

2) Diffusers:
While we are talking about EOs, one of the most popular ways to use them is in diffusers. I have an awesome starter kit with 11 essential oils and a diffuser to go with it!
Watch all that is included in the starter kit in this short video.
Surprise your valentine day with a whole starter kit of essential oils this year. Email me & I can have the goodies shipped to your home directly.

3) Himalayan salt lamps:
This has become my favorite ambient lighting solution! This is the new candle light dinner replacement for me.
Its natural warm glow has a very soothing and relaxing effect. And I love having it on when I am meditating and preparing to go to bed.
Besides this, Himalayan salt lamps are believed to have health benefits such as helping with respiratory problems like cold, allergies, insomnia and headaches.

4) Homemade chocolate hearts!
Now who doesn't love chocolates? They are my weakness for sure!
And here is the best part with this gift……you don't have to spend a dime on this one!! At the same time you will woo your sweetheart with these delish chocolates you made yourself. (Don't fret; the recipe is so simple even your 5 year old can make it!)

5) Spa gift card/ package
I am a sucker for a good massage! If it's paired with a lovely organic facial/ pedicure- that is heaven on earth right there for me!
Treat your love with a day at the spa or better still join him/ her for a couple's massage. Bonding over a nice massage and some beauty therapy, now that is unbeatable.

6) Herbal teas
Herbal teas are a great gift if your love is trying to cut down on high caffeine drinks. I recommend them to my clients for overcoming sugar cravings too! There are some really sweet blends out there in dessert flavors of all sorts!
So instead of reaching out for a high calories, sugar and fat rich sweet treats, pour yourself a warm cup of herbal tea, with an essential oil diffuser and Himalayan salt lamp in the background.
And if that cup of tea was coming after a super relaxing spa retreat, then you have an icing on the cake (without the real cake and icing in this case that is!)
Oh and talking about dessert/ sugar; if sugar has been on your bad side lately then you'd want to grab this Free 3 day Sugar Detox.

7) Rejuvenating Detox:
Detoxing and cutting out certain foods may not even cross your mind when it comes to a gift ideas list, right?
So let me explain why I am suggesting this.
You see spring is the perfect time for detoxing the body. It's the best time to flush out the body of the heavy, warming foods we have been consuming all winter long; and prepare the body for the light & refreshing spring days coming up.
A gentle detox based on REAL foods sans the highly restrictive store bought powdered detoxes is just what the body needs. You can do this detox with your love and prepare for spring in a healthy, nutritious way.
Go ahead and get the Rejuvenating Gut Detox here.

So there you go.
Those are some of my fav picks carefully chosen so that you can bedazzle your Valentine this year and make it memorable for both of you!
The benefits of these simple gestures of love will go waaaay beyond the Valentine's day.
I can bet on that 😉
In the Spirit of Love!
Tanuja Dabir